Seize the Moment: Why Hiring Highly Skilled Migrants is Key to Business Success in the Future
Entrepreneurship is about spotting opportunities, solving challenges, and thinking towards the future. With the help of highly skilled migrants, you can prepare your organization for the future.
In this article, we discuss the benefits of hiring highly skilled migrants for your organization. We will delve into how you can gain a competitive advantage and how to effectively approach this.
The Momentum of Knowledge Migration
Our society and economy are becoming increasingly global. Borders are fading, and mobility options are expanding. This presents opportunities and challenges, including knowledge migration where workers move to other countries to work and live.
Several countries worldwide have launched initiatives to promote this, such as the "Express Entry" in China, "SkillSelect" in Australia, and the "Blue Card" in Europe.
Solution for National and Demographic Challenges
As you are aware, there are several challenges that we, as a Dutch society, face. Some of these directly affect the search for suitable employees, such as the labor market shortage and population decline on the European continent.
To continue to grow both now and in the future, it is important to address these challenges and prevent them from becoming bigger problems in the future.
With the help of talent migration, you can leverage the opportunities of global mobility as a solution to domestic labor shortages and European population decline.
Competitive Advantage through Talent Migration
Earlier, we discussed the phenomenon of "The War for Talent," where there is an increasing demand for specialized employees.
This shows that more and more companies need employees with specific knowledge and/or skills that are not always available in the local labor market.
By hiring highly skilled migrants, your company can gain a competitive advantage:
Access to specialized knowledge and skills: gain an advantage by having knowledge that not every player in the market has.

Creativity: highly skilled migrants have a different background than "local" employees. This can lead to new ideas and innovative solutions.

Diversity: with highly skilled migrants on board, your company has more diverse teams. This provides more insight into the needs of international customer groups.
To fully capitalize on the benefits of talent migration, we recommend that companies have a plan of action. What are your company's needs, are you ready for the arrival of highly skilled migrants, and are you aware of the applicable laws and regulations?
 How can I effectively hire highly skilled migrants?
Before hiring a highly skilled migrant for your organization, it is wise to have a plan in place. Below are some points to consider when creating a plan:
Desired skills: which skills are missing in our organization and which are essential for growth and optimization? This could be in areas such as technology or finance.

Finding suitable employees: can we find the right employees in the national labor market or do we need to look abroad?

Where to find potential highly skilled migrants: will we search ourselves through universities and international networks or will we engage a specialized agency?

Preparation for the arrival of highly skilled migrants: Is our organization prepared for the arrival of highly skilled migrants, both culturally and in terms of support with housing and practical matters such as the spoken language?

Employment conditions: Do we offer attractive employment conditions for highly skilled migrants?
The value of recognized sponsorship
Highly skilled migrants from outside the EU, EEA, or Switzerland require a work permit and/or residence permit to stay in the Netherlands. In addition, a sponsor must be involved in bringing the employee to the Netherlands.
Your company can serve as the sponsor in this case. Recognition as a sponsor is done through the IND (Immigration and Naturalization Service).
Being a recognized sponsor ensures efficiency and time savings when it comes to hiring highly skilled migrants and making the required permit applications.
Curious about how your company can become a recognized sponsor? You can read about it in this article we recently wrote.

Seize all opportunities of Global Mobility
We assist organizations in achieving their full potential through the use of global mobility.
Do you have questions about hiring international talent, payroll services, or recognized sponsorship? Please feel free to contact our experts, and we will gladly discuss the boundless possibilities.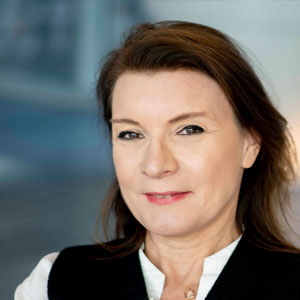 Nathalie Crivello
Client Solution Manager | MIM certified
Our mission is to grow your business by going global. Questions? Let me know.
Give us a call +31 (0)20 765 7520
or send us an email
info@executivemobility-group.com
HQ – Amsterdam Evert van de Beekstraat 1-36 1118 CL Schiphol PO Box 75544 1118 ZN Schiphol The Netherlands